If you opened your car insurance bill recently and noticed it's higher than you expected, you're likely experiencing the insurance rate increases being made by most insurance companies in late 2022 and into 2023. Insurance companies are raising their rates in response to significant changes in the marketplace.
To answer your questions about these changes, we put together an insider look into why your car insurance premium may go up.
Why did my car insurance go up?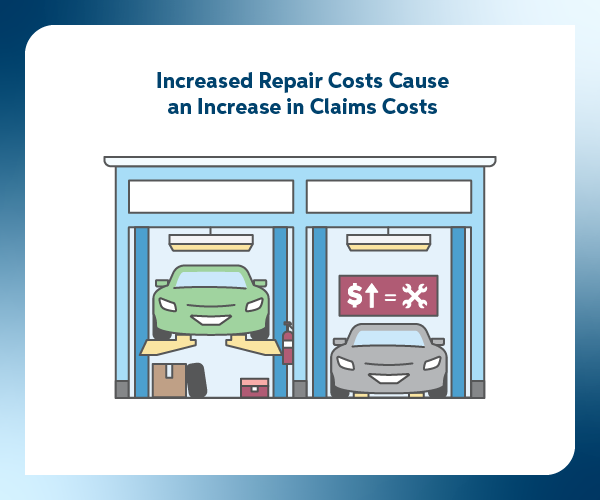 Several unprecedented changes are driving up car insurance rates, the first being the increased costs of a car insurance claim. This increased claim cost is largely due to:
Increased severity of car insurance claims
Price increases for replacement parts
Availability of replacement parts
Repair shops are short-staffed
Repairs are taking longer, which increases the total cost to rent a vehicle since you may need it longer
There is also a shortage of new and used vehicles. Because of these shortages, the prices to replace a vehicle have significantly increased, making claims for totaled cars much more expensive.
Read more: Totaled Car? Here's What You Need to Know and What Happens Next
Of course, we can't forget inflation. Just like many other industries right now, inflation is driving up prices.
How much can I expect my car insurance to go up?
The amount that your car insurance will increase varies by state and depends on your policy. There is no set percentage that all insurance companies are increasing. The adjustment is based on the price increases they've seen in their claims and adjustments for inflation. All rate changes also have to be approved by your state's department of insurance.

What if I didn't file any claims?
Filing a claim can affect your rates. However, this particular rate increase is usually going to be more heavily motivated by the drastic changes in the marketplace.
Read more: How is the Chip Shortage and Global Supply Chain Issues Affecting My Insurance?
Should I switch my insurance?
Seeing your rate increase may prompt the question of switching insurance companies. Since this is a change affecting the entire insurance industry, rates may not be that much different. However, it never hurts to check.
Your local, independent insurance agent is a great resource and can help you compare quotes from multiple insurance companies to find the coverage and rate best for you.
While it's tempting to switch to achieve that lower price tag, make sure you check the insurance company's service ratings, coverage options and limits. This is especially important today, since repairing and replacing a vehicle is far more challenging. Switching to an insurance provider that has a lower rate but also lower service ratings or coverage limits may leave you scrambling when you submit a claim.
Read more: Making the Auto Insurance Switch
We know it's hard to see a rate increase that is both unexpected and out of your control. However, all the fast-paced changes over the last few years has made it a necessary step. For more information about the rate increases you're seeing, reach out to your local, independent insurance agent.
Let's be Friends: Follow us on Facebook
Copyright Auto-Owners Insurance Company © 2023. All Rights Reserved.
* Products referenced may not be approved/available in all states. Limitations and conditions may apply. Premium will be based on benefits chosen and policy rates available at time of application.
Disclaimer: This article is not expert advice. The analysis of coverage is in general terms and is superseded in all respects by the Insuring Agreements, Endorsements, Exclusions, Terms and Conditions of the Policy. Some of the coverage mentioned in this material may not be applicable in all states or may have to be modified to conform to applicable state law. Some coverages may have been eliminated or modified since the publishing of this material. Discounts may not be available in all states. Limitations and conditions may apply. Premiums will be based on benefits chosen. Please check with your local Independent Auto-Owners Insurance Agent for details. 
The Inside Look into Why Your Car Insurance May Go Up – Auto-Owners Insurance